Designing for VR has always been, and still is, a challenge. And then you get blown away with someone's creation. Singularity is a motion graphics experience in virtual reality that has a simple and elegant design and tells a striking story. Let's take a quick look at what it can do and what the future holds.
What Is Singularity?
Singularity is the notion that one day, machines are going to evolve faster than humans and reach a level we are incapable of understanding and that this will change our world forever. The fear is somewhat understandable, as technology is rapidly evolving every day and new fields are developing every day.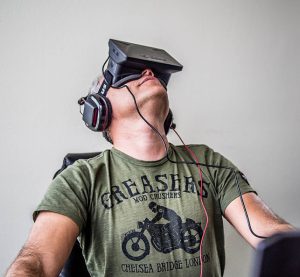 Singularity we are talking about here is a kind of game, though it is more accurate to say it's an experience. While relatively short, it makes great use of space, lines, and colors to convey the idea of the depth and being lost. It is very difficult to explain and describe without fear of doing it injustice, but I'll try.
It's like being inside the very concept of design. The basics are there, like the lines presenting the ideas of shapes, rectangles cascading from a larger one like the multiple windows on a desktop monitor and the constant feeling that an entity is trying to absorb that information and leave you in the dust. You really feel like you are watching something eat data.
Is It Grim?
Not in the slightest. At worst, it is slightly unsettling simply for the feeling of being overwhelmed by things in motion and not really interacting with the environments, but being a simple observer. What makes the experience amazing is its use of typography. Having this level of dynamic encounter with the typeset is mind-blowing, the use of negative space is astounding, and this is, truly, a work of art.
Where Can I Get It?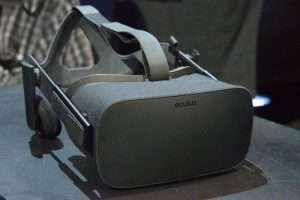 You can download the experience from the Oculus' official site. It is supported by Rift and Rift S and it's slightly over 2 GB. Another amazing thing about the product is that it is already two years old and, in my humble opinion, still relevant to the point of being moderately ahead of its time.
When acquiring this game, please note that, though the game is free, the Oculus certainly isn't. I long for the day when VR becomes affordable to everyone.
Other Artwork
Experiencing art is not as easy for some as it is for others. Some designers, artists, museums, and galleries have created virtual tours of museums and galleries, but also paintings. Yes, I said paintings. You can check out what it's like to take a walk through Van Gogh's Starry Night. Careful, because it can get trippy.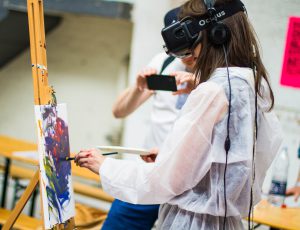 Yinka Shonibare and the Royal Academy have come up with an interesting experience of their own, where you are walking around a renaissance painting and examining each beautifully rendered person or object. Projects like these make it very easy to get interested in technology and art. It's a symbiotic relationship.
There is a significant amount of artwork from the old masters and the newcomers. VR gives the work the third dimension, making the experience that much more immersive. And who do you suppose made the experience so unforgettable? That's right, designers. Get cracking.